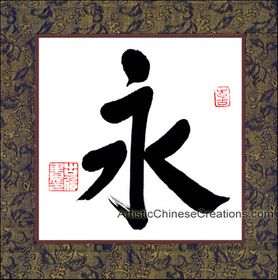 Please click on the image for a larger picture.

Chinese Calligraphy Symbol - Eternity (8" x 8") #25

Artwork Size (with brocade borders): 8" x 8" (20cm x 20cm)

The Chinese character shown on this calligraphy means "Eternity".

This calligraphy artwork is double backed and mounted with brocade borders.

This is a standard 8" x 8" artwork. You will find the standard size frames at your local store.

100% Hand written. Original Chinese Calligraphy. Ready for framing.

Artist: Gu Xin.