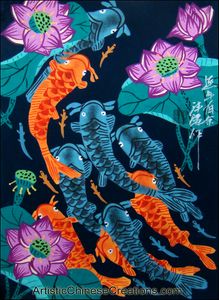 Please click on the image for a larger picture.

Chinese Peasant Painting - Lotus & Fish #39

Painting Size: 11" x 8" (28cm x 20cm)

Sold

In the Chinese culture, the fish symbolizes prosperity and wealth. Lotus symbolizes purity, joy, and perfection.

100% Hand Painted Chinese peasant / folk painting.

Artist: Feng Tao.