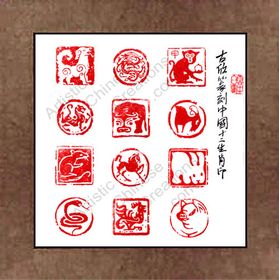 Please click on the image for a larger picture.

Chinese Seal Stamps - Chinese Zodiac Symbols / Ready for framing

Size: 16" x 16" (40.5cm x 40.5cm)

Unique Chinese zodiac symbols are stamped on the rice paper, double backed and mounted with brocade borders. Ready for framing.

All seal stamps are professionally Hand carved.

Artist: Gu Xin.

* Stones are not included.