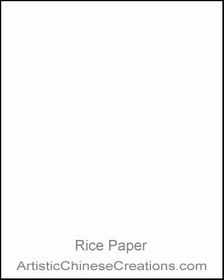 Please click on the image for a larger picture.

Chinese Rice Paper (10 sheets)

Rice Paper Size: approx. 10" x 8" (25.5cm x 20cm)

10 sheets of Chinese rice paper. Each sheet of rice paper measure approximately 8x10 inches. High quality Chinese rice paper is made for traditional Chinese ink / watercolor paintings and Chinese calligraphy. Great for both professional artists and beginners.