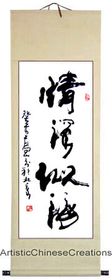 Please click on the image for a larger picture.

Chinese Calligraphy Scroll - Deepest Love

Size: 57" x 19.5" (145cm x 49.5cm)

The Chinese characters shown on this calligraphy wall scroll means "Deepest Love". This is a great gift for loved ones.

This calligraphy artwork is mounted on traditional Chinese wall scroll. It could be hung on the wall directly.

100% Hand written. Original Chinese Calligraphy.

Artist: Gao Shan.